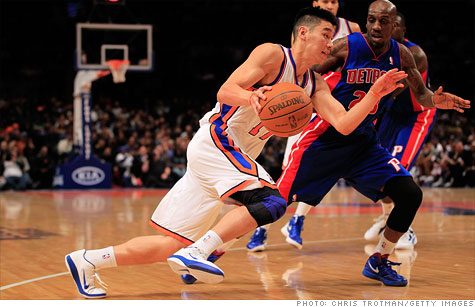 It's stories like the one about Jeremy Lin that make sports the best thing in the entire world. Every once in a while some athlete comes out of nowhere and bursts on the scene. When this happens, they already have everyone cheering for them, except for those who don't have a soul. Everyone loves rooting for the underdog. The guy, or girl, that no one gave a chance because they were too small, weren't the prototypical athlete or had some off field issues. Either way once that underdog becomes successful, no one cares why he was overlooked; they just care and hope that they do well.
This is the case for Jeremy Lin, a guard out of the University of Harvard who by all means does not look like your typical NBA player. He is a skinny, 6'3''Asian-American from an Ivy League school! In a league dominated by racial standards, Jeremy Lin is at the bottom of your list of people who you think will succeed in the NBA. Re-reading that last sentence is sad, but it is true. I'm not going to bring race into this because that is not what Jeremy Lin's story is fully about. His story is about the true rise of an underdog that gives hope to all athletes who have heard the words "you're not good enough" repeatedly throughout their athletic career.
Unless you've been living under a rock the last 2 weeks, everyone should know Lin's story by now. He was undrafted out of college, because to be honest his numbers weren't that impressive, especially playing in a weaker college conference like the Ivy League. His career stats while averaging 30 minutes per game were 12.9 PPG, 3.5 APG, 4.3 RPG all while shooting 48.0 % from the field. Like I said nothing special that warranted him getting taken as a late second round pick in the draft. This is where something called "Heart" makes a difference. Most people faced with Lin's situation and a Harvard degree would have packed it up and joined the real world, but for Lin that didn't appear as an option. His love for the game of basketball, someone anyone who has ever played can appreciate, wouldn't allow him to quit. He kept working and bounced around the D-league and with a couple NBA teams before signing with the Knicks midway through the season.  What ensued next in Lin's basketball career, NO ONE and I mean absolutely NO ONE, saw coming.
With the Knicks ravaged by injuries to Carmelo Anthony, Baron Davis and Toney Douglas the only guy left was Lin. His own coach didn't even know who he really was. He broke the NBA record for most points scored by anyone in their first 5 starts with 136 points. Most recently on Tuesday night he hit the game winning 3 at Toronto as time expired finishing the game with 27 points. Over his first six starts he has shot 50.4% and averaged 26.8 PPG, 8.5 APG, 3.8 RPG and 1.8 SPG. Those numbers are unreal, for an undrafted player out of college who has been sleeping on his brother's couch. This type of stuff just doesn't happen in the NBA, maybe in the NFL or MLB but not in the NBA. In an era where ESPN goes as far as ranking the top 25 sophomores in high school, it is hard for players to get over looked. People are always trying to find the next big thing judging kids based on athletic ability and raw talent. What often gets over looked is what's on the inside of these players, the heart and determination that resides within them, the will to win. Yes, he has proved he is athletic enough to play in this league, but all the intangibles are Jeremy Lin's most prominent qualities to me.
Now for the sobering (and annoying) moment. Eventually Lin is going to come back down to earth from this unbelievably high level of play. There is no way he can keep his production up especially with Amare and Carmelo coming back. Not to mention that he plays in New York and the media is putting an immense amount of pressure on him, calling him the Knicks savior and coming up with just about every Lin pun possible. Okay the Linsanity thing is pretty cool, I mean how often does it happen that Sportscenter basically starts the show with highlights about the same person every time! What isn't cool is the amount of puns that people have created. To name a few, Lincredible, Linsanity, Linning, Linspiring, Super Lintendo, to Linfinity and beyond – basically any word that starts with IN people put an L in front of it. I can't take it anymore. To put things in perspective, even my Asian roommate can't take it, who is so mesmerized by Jeremy Lin he is officially Linsane….whoops I guess I got caught up in it too. That's my point! It's too hard not to get caught up in Linsanity so just enjoy what is happening because its special.
Will an underdog come out of nowhere and take the world by storm ever again? Yes! Will it ever happen to the extent it did with Jeremy Lin? They say history repeats itself, but I just don't think this will ever be repeated. In the meantime, we should all take a step back and enjoy the silver Lining in this world and cheer for Jeremy Lin to succeed in the NBA. Am I going to be a hypocrite and use a Lin pun in my title? In true Minnesota fashion….Yaaa Youu Betchaa!
Peace & Lin….I mean Love.
AC
** I know this is late— my computer broke and I was finally able to post it!
http://www.nbc.com/saturday-night-live/video/linsanity-postgame-cold-open/1386272/
(SNL skit)